South Africans have a large variety of choices when it comes to buying dry dog food. We have around 22 major pet food brands in the country, and this can be confusing for people who just want to find a good, nutritional, filling meal for their pups.
We gathered together the consensus on which of these brands are leading the industry; which are healthier for your pets; and which ones are worth the cost; then we put all that information into a simple, informative guide below.
Related: Get pet insurance quotes to help keep your furry friends healthy and happy.
Buy Dog Food Online South Africa
Online shopping has become a convenient way to buy almost anything – from food to clothes and even furniture. So why not grab your dog's monthly meals while you're 'adding to cart' and have it delivered right to your home. Here are a few of our tried and tested eStores.
How to Pick the Best Dog Food Brands in South Africa
There are certain things that you need to keep in mind when picking out the best food for your dog.
Choosing the wrong food can cause many issues for your pet's health, from stomach problems to skin problems and even behavioural issues. That's why researching the right food is vital for any pet owner.
Top 10 Dog Food Brands in South Africa
As with most products that you buy, there are multiple brands competing against each other. Each brand has its own positives, negatives, and unique qualities. The trick to finding the perfect one for your dog is to compare your budget with the quality of the food you will be getting, and whether or not the brand caters to your dog's specific needs.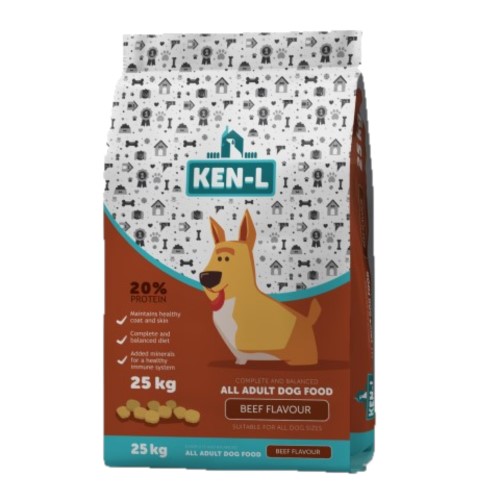 Ken-L
A part of the Martin and Martin stable of companies, Ken-L is bringing premium pet food to owners who can't really afford 'premium' prices. This dry food is affordable but does not compromise on any of the nutrients your canine needs to live a long and prosperous life.
The food comes in sizes ranging from 8kg to 40 kgs, and you get either beef or chicken flavours. There is also a specialized puppy food for younger furry kids.
Buy 25 kg chicken flavor here.
Acana
Acana has designed their foods based on the ancestral diet of your pets. According to them, the gray wolf is the ancestor of all domestic dogs, and so they have used the wolf's eating habits and nutritional needs to build the perfect recipe for their dog food.
Their foods are said to follow 5 basic Nature Rules; meaning they are rich in protein, include high quantities and an abundant variety of fresh meats, contain the perfect whole prey meat ratio, and limit the use of glycemic carbohydrates.
Their range includes:
ACANA Classics
ACANA Heritage
ACANA Regionals
ACANA Singles

Royal Canin
Not only does Royal Canin produce pet food that is of outstanding quality and fantastic nutritional value, but they also work hard to inform all pet owners of the benefits that a good diet will bring for your pet.
They have a Dog Food Finder, which allows you to enter your dog's details, like age, breed, weight, etc. and find the perfect food for them. Their dry dog food range includes:
X-Small (1 – 4kg)
Mini (1 -10 kg)
Medium (11 – 25kg)
Maxi (26 – 44kg)
Giant (> 45kg)
Giant (> 45kg)
Maxi (26 – 44kg)
Medium (11 – 25kg)

Montego
A family-owned company, Montego was started in 2000 by Hannes van Jaarsveld, a farmer in Graaff Reinet, South Africa. He and his son now run the factory and produce one of the best-known pet food brands of South Africa.
Montego's range of foods extends from dry food, to wet food and everything in between. They have thought of everything; sauces to go over pellets, treats for your 'good boys' and the best nutritional value in their everyday foods.
Karoo – a premium dog food range full of nutrients and scientifically formulated for your dog (comes in 1.75 kg, 8 kg, and 20 kg bags)
Montego Classic – a perfectly balanced, highly digestible recipe of delicious dog food (available in 2 kg, 5 kg, 10 kg and 25 kg bags)
Monty & Me – a more affordable range of the same Montego quality that dogs enjoy (available in 8 kg, 10 kg and 25 kg bags)
Nutri Byte
Nurtibyte is a locally made proudly South African dog food that offers high-quality meals for your pets. Each of their formulated diets includes plenty of vitamins and nutrients, and their ingredients are all tested and approved before they even become your dog's food. The brand uses imported protein sources and high levels of rice, and there is a selection of diets you can choose from.
Some of Nutribyte's top dog food options are:
Small bite Adult
Senior dog food
Senior small bite
Endurance dog food
Mother's miracle
There are also Nutribyte dog treats for a delicious and nutritious reward.

Hill's
Divided into three main groups, Hill's offers pet owners a choice between their Science Diet™, Prescription Diet™ and Ideal Balance™ ranges. The Prescription Diet™ range is obviously for dogs who have medical issues and have been prescribed this food to help them rectify these problems. From weight issues to joint and muscle problems, this food will help keep your pups healthy.
In the Prescription Diet™ dry and wet food range are:
Metabolic Canine Original
Digestive/ weight/diabetes management
Weight Reduction
Joint Care
Food Sensitivities
Heart Care
Liver Care
Dental Care
Digestive Care
Urinary Care
Kidney Care
Ageing and Alertness Care
Derm Defence
Hypoallergenic Treats
The Science Diet™ range is designed by experienced vets, with the help of science to make biologically-fitting dog food for your pet according to its size, breed and age.
In the Science Diet™ Range are:
Mature Adult 7+ Light Active Longevity™
Adult Sensitive Skin – Chicken
Adult Oral Care – Chicken
Adult Sensitive Stomach & Skin – Chicken
Adult Performance – Chicken
Adult Light
Adult Advanced Fitness™
Puppy Lamb & Rice
Adult Perfect Weight
Puppy Healthy Development™
Adult Healthy Mobility
The Ideal Balance™ range is made from a perfect balance of natural and nutritious ingredients. This range has a much larger variety of flavours, such as:
Large Breed Natural Chicken & Brown Rice Recipe Adult
Poached Salmon & Vegetables Recipe
Small Breed Natural Chicken & Brown Rice Recipe Canine Adult
Natural Chicken & Brown Rice Recipe Mature Adult
Grain Free Natural Chicken & Potato Rice Recipe Adult
Soft-Baked Naturals with Duck & Pumpkin Dog Treats
Natural Chicken & Brown Rice Recipe Canine Adult
Puppy Natural Chicken & Brown Rice Recipe
Puppy Large Breed Natural Chicken & Brown Rice Recipe

Eukanuba
With a name meaning 'tops', Eukanuba is one dog food that is hard to beat. Since 1969, they have continued to bring to the market an innovative food range that focuses on pet health and growth.
Their core range, known as PAWS, includes:
Puppy

Small Breed
Medium Breed
Large Breed

Adult

Small Breed
Medium Breed
Large Breed

Weight Control

Small & Medium Breed
Large Breed

Senior

Small Breed
Medium Breed
Large Breed

Daily Care

Sensitive Skin
Sensitive Joints

Premium Performance Working and Endurance

Orijen
Having won many awards over the years, Orijen is another brand dedicated to feeding pets a diet based on natural ingredients and whole prey animals. Not only do they offer your usual dry pellets, but they also have freeze-dried pellets and freeze-dried treats.
The Orijen dry dog food range includes:
Puppy
Puppy Large
Original
Six Fish
Regional Red
Tundra
Fit & Trim
Senior

Field and forest
The Field and Forest brand is a branch of Montego but has its own wonderful variety of flavours and product options.
Field and Forest – a grain-free, highly nutritious combination of wholesome and authentically prepared dog food (comes in 2 kg, 7 kg, and 12 kg bags)
Adult
Large Breed Puppy
Small Breed Puppy

Vet's Choice
It says it in the name – Vet's Choice. This is another brilliant brand on offer in South Africa that helps us keep our canine friends in tip-top shape. Their products are full of Omega 3, Omega 6, and plenty of other vitamins and nutrients.
The range consists of:
Puppy
Large Breed Puppy
Premium
Superior
Large Breed Adult
Sensitive
Lite
Golden Years
What is the Best Dog Food in South Africa?
Best Dry Dog Food South Africa
Based on the brands we have mentioned above, we would have to give our winner's ribbon to Hill's. They offer the largest range, catering for both prescription needs as well as average nutrition needs. Their flavours allow dogs to have variety in their diet, and their ingredients are specially chosen to keep dogs healthy and happy.
Best Grain-Free Dog Food South Africa
While there are many brands that offer grain-free dog food in South Africa, there is one of the above-mentioned brands that is known for its 0% grain in its dog food. That brand is Acana; with a large range of foods in a variety of flavours, all with absolutely no grain, they come up on top.
Find Dog Food Reviews South Africa
List of Dog Food Ratings South Africa
Dog food brands work hard to get high ratings from their consumers, the better their product and customer service is, the more likely they are to be a favourite among South African pet owners.
Dog food is rated on the following:
Price
Nutritional value
Value for money (variety in size of bags available)
Customer service from a brand
Product availability (available in many shops, online, etc.)
Feedback and reviews (people are not likely to buy a brand with a bad name)
Dog Food South Africa Prices
Feeding pets can become expensive, so it's important to find a dog food that is both healthy for them and affordable for your wallet. Below, are average prices for some of the brands we have mentioned.
Acana –
From R864 for 6 kg to R1 829 for 11.4 kg bag
Eukanuba –
From R117 for 1 kg to R1 058 for 15 kg bag
Orijen –
From R513 for 2 kg to R1 860for 11.4 kg
Montego –
From R233 for 10 kg to R717 for 20 kg bag
Royal Canin –
From R113 for 800g to R1 185 for 15 kg bag
Hill's –
From R269 for 2 kg to R1 185 for 18 kg bag
Fields & Forest –
From R253 for 2 kg to R1 149 for 12 kg
Vet's Choice –
From R186 for 1.8 kg to R1 149 for 20 kg bag
Finding the Best Dog Food Online
Online shopping has revolutionised the way we live. No longer do we need to trudge to the nearest shop, make our way through traffic and queues, just to buy something we have run out of. We can now just sit at our laptops, click a button and the products arrive at our door! Pet food is no different.
There you have it, the ultimate guide to making your next purchase of dog food. Whether it's for your brand-new addition to the puppy family, or you feel your dog needs a change in diet, you should be set to make the best choice for you and your dog.
While we're talking about dogs health and wellness, have you tried CBD oil for your pups? It's not for everyone, there's no denying that CBD oils are becoming a more popular way to help with anxiety,  pain, and other problems.
If you are still unsure, or your dog has very specific needs, it is a good idea to first visit your vet. They will be able to help you find a dog food that will fit perfectly into your dog's diet and keep his/her body healthy.
Most comprehensive article on the topic
This was such an informative post about dog food
PROS
Most of the dog food brands are on here